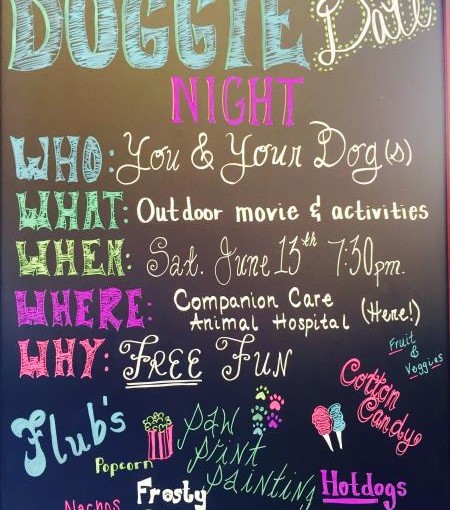 2ND ANNUAL DOGGIE DATE NIGHT JUNE 13TH
May 13, 2015
Come join us at our 2nd annual doggie date night here at Companion Care. The event starts at 7:30 and is held in our parking lot! The featured movie is Cats & Dogs. This event is dog friendly so feel free to bring your pup on a leash!  There will be Flubs ice cream and frosty paws for your pup(s). There will also be nachos popcorn, hot dogs, and cotton candy ! All we ask is to bring a pet food donation for our seniors at Partners in Prime. The food donation can be canned or dry. Also, don't forget to bring a chair or blanket to sit on ! If you have any questions feel free to call ! 513-829-8989
SEE YOU THERE !!!
---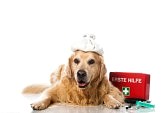 Canine Influenza
April 13, 2015
This is the latest information about the Canine Influenza (dog flu) outbreak in the Chicago area. This is a new strain from Asia. It is not known if the available vaccine is protective for this new virus strain but it will likely decrease the length and severity of the disease. Dogs that go to dog parks, day care, boarding or grooming are the most likely to be exposed and may benefit from the vaccine. Contact us if you are interested in having your dog vaccinated. We will be ordering a supply of the vaccine.
Canine influenza (CI, or dog flu) in the U.S. is caused by the canine influenza virus (CIV), an influenza A virus. It  is highly contagious and easily spread from infected dogs to other dogs CLICK ON THE READ MORE BUTTON BELOW
---

What is Propylene Glycol?
April 9, 2015
The compound, used in pet food, human food and a variety of other products, is vilified by some, dismissed by others. But what is it, really? Ever heard of propylene glycol? Sick of hearing about propylene glycol? Maybe you recognize it as an ingredient in "pet-friendly" antifreeze. Maybe you haven't given it a moment's thought until a recent lawsuit claimed it to be a toxic ingredient in Nestlé Purina's Beneful dog food and clients started asking—after consulting with the Internet, of course…….. CLICK ON THE READ MORE BUTTON BELOW TO GET THE FULL ARTICLE
---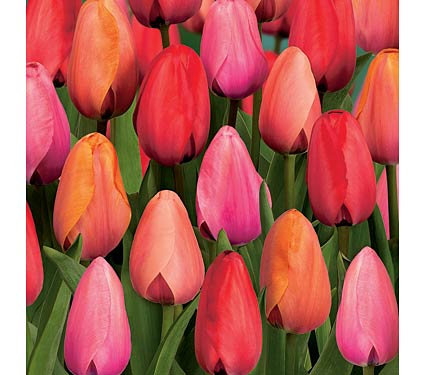 Spring Pet Poisons For Dogs and Cats
April 9, 2015
Gardening season is here! Plant bulbs are just as excited to break through the ground to add some color to our yards as we are to see some greenery! That said, we need to be aware of the potential dangers spring plants can be for our pets. Here is a list of some of the most common spring plants and their toxicities… so you know how to pet-proof your garden and keep your pet safe!  CLICK ON THE READ MORE BUTTON BELOW TO READ THE FULL ARTICLE.
---
Surgery Slideshow
March 31, 2015
---
How to apply Vectra 3D
March 31, 2015
---
10 Animals From Ireland You Should Celebrate on St. Patrick's Day
March 17, 2015
---
How to pill your cat !
March 17, 2015
---